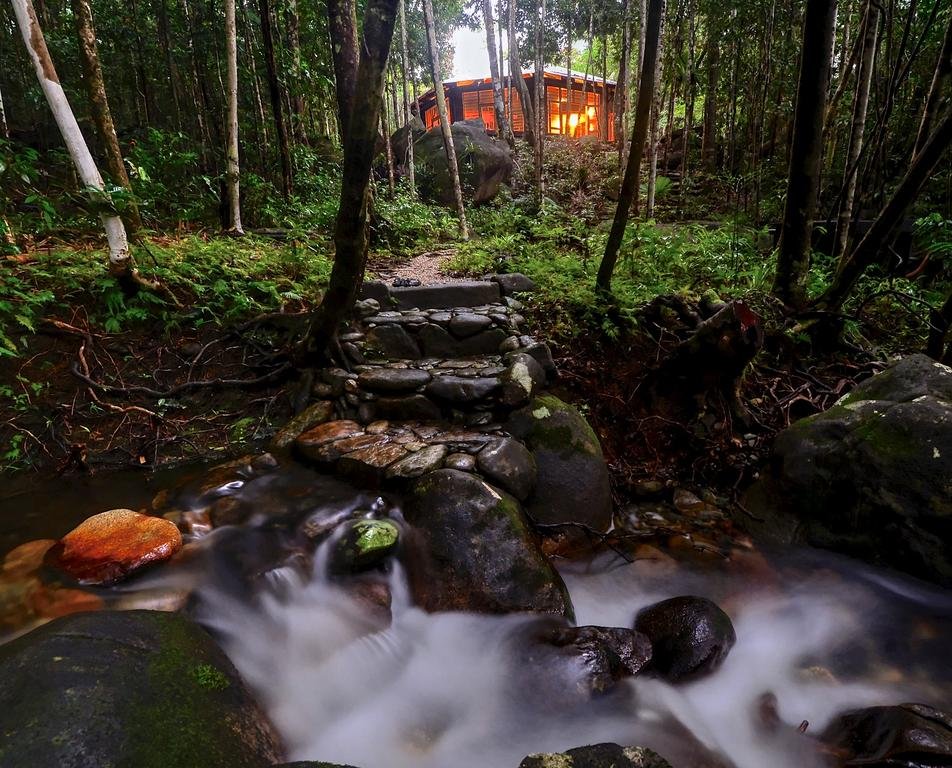 Daintree Cascades
Address:202 Stonewood Road, 4873 Cape Tribulation, Australia
Set in the tranquil World Heratige listed Daintree Rainforest alongside your own private crystal clear creek, Daintree Cascades provides a wonderful escape. The fully self-contained houses are eco-friendly, and powered by hydro electricity from the creek. This luxury treehouse is equipped with 3 bedrooms (Bedroom 1: 1 extra-large double bed, Bedroom 2: 1 extra-large double bed, Bedroom 3 : 1 extra-large double bed). There are lots of activities to enjoy, from snorkeling on the Great Barrier Reef to flying through the canopy on a zip line at Jungle Surfing.
Daintree Wilderness Lodge
Address:1780 Cape Tribulation Road, 4873 Daintree, Australia
Daintree Wilderness Lodge is eco-friendly resort nestled deep within the Daintree Rainforest. The accommodation features an outdoor heated spa, a bar and a restaurant. Each cabin offers individual boardwalks leading to the entrance, ensuring ultimate privacy. All cabins include a balcony with outdoor furniture.
The restaurant Cycad caters exclusively to the lodge's guests offering breakfast including local seasonal fruits, and modern Australian cuisine in the evenings. The tour desk can provide assistance in arranging local tours and activities.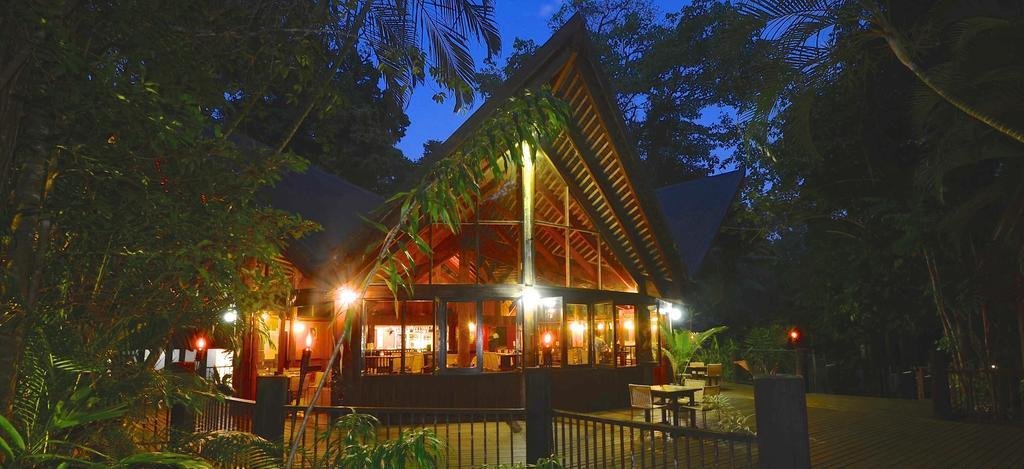 Ferntree Rainforest Lodge
Address:36 Camelot Close, 4873 Cape Tribulation, Australia
Ferntree Rainforest Lodge is surrounded by 28 acres of lush rainforest. The accommodation features 2 swimming pools and an on-site restaurant and bar.
The tour desk can arrange Great Barrier Reef trips, crocodile tours and guided rainforest walks.
Ferntree Rainforest Lodge offers Bed in 4-bed mixed dormitory room, garden loft, private cabin, triple room, budget double room and luxury garden loft.
This accommodation is a short distant from the Cape tribulation Beach, Daintree Discovery Centre, Myall Beach and Mount Sorrow.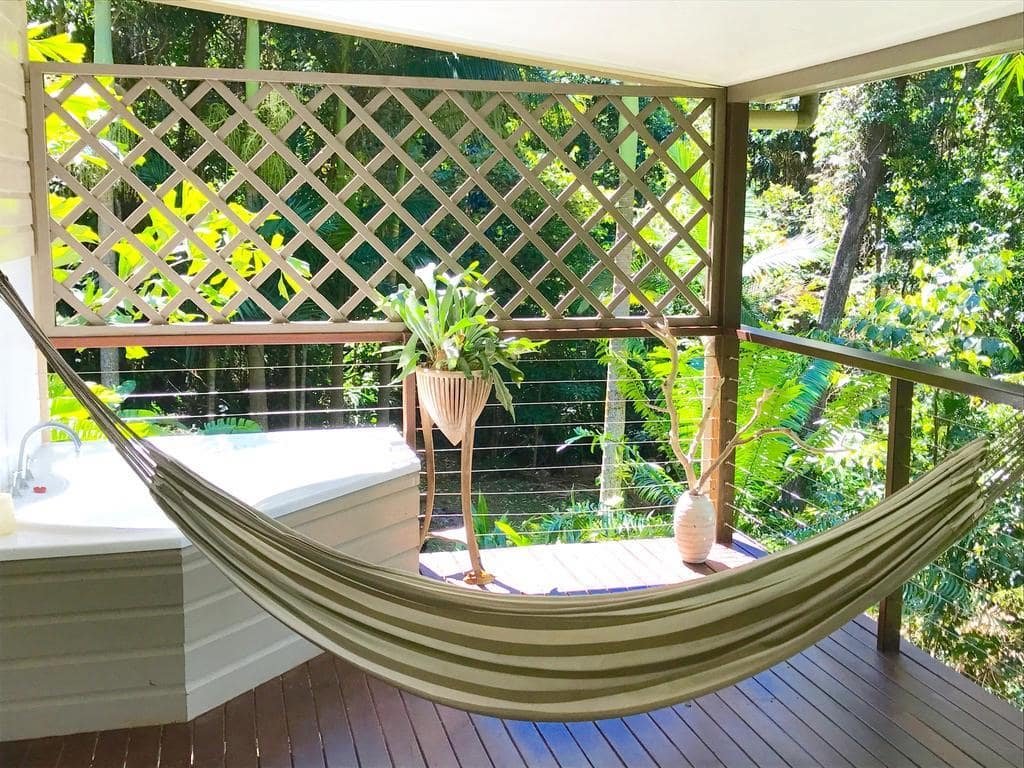 Daintree Magic
Address: 6-8 Frond Close, 4870 Cairns, Australia
Daintree Magic offers 5-star accommodation with a hot tub, a terrace, free parking, free wifi and a shared kitchen.
After a day of hiking or fishing, guests can relax in the garden or in the shared lounge area.

This 3 bedroom holiday home accommodation is in a prime location in Cow Bay, 600 m from Cow Bay Beach and a short drive from Daintree Discovery Centre, Coopers Creek, Thorntons Peak and Daintree River.
The Barn Daintree Holiday House

 Address: Lot 275 Kauri close, Cow Bay, QLD, 4873 Cow Bay, Australia
The Barn Daintree Holiday House is located in Cow Bay and offers views of the coral sea and rainforest. This luxury treehouse is situated on the side of the mountain bordering the World Heritage Daintree National Park and is only within a 10-minute walk from the beach.
This accommodation offers luxurious amenities including 3 en suite bathrooms, a fully-equipped kitchen, satellite TV, stereo system, billiard table, an outdoor pool, BBQ area, 10 m ceilings and glass walls.
Also featured at The Barn Daintree Holiday House are 3 separate balconies to relax on and do some whale-watching.
You can also play darts at the property and there are tours and activities available in the area.
Daintree Ecolodge

Address: 20 Daintree Road, 4873 Daintree, Australia
Daintree Ecolodge offers boutique accommodation in the worlds oldest rainforest. The 15 bayans  (rainforest houses)  are specifically designed so guests can experience the smells, sounds and sights of this tropical rainforest. It's the perfect base to discover the essence of Tropical North Queensland, exploring the majestic Daintree River, ancient rainforest and Great Barrier Reef.
This boutique lodge has a day spa and an on site restaurant, which overlooks the freshwater lagoon.The day spa at Daintree Ecolodge offers a range of treatments from massages to facials. The Julaymba restaurant offers contemporary Australian cuisine, served in the lodges.
Daintree Secrets Rainforest Sanctuary
Address: 61 Stonewood Road, 4873 Diwan, Australia
Daintree Secrets is centrally located in the Daintree / Cape Tribulation area, perched above a permanently running stream in the middle of the oldest rainforest in the world, 
Daintree Secrets is the only property with its own private swimming hole, complete with waterfalls and rapids running past the house. Perfect for a romantic getaway, families or a group looking for their own private piece of paradise