Treehouse is an exhilarating and adventurous place for you to rejuvenate yourself and free your mind from a stressful environment. The treetop house would also be the ideal place for you to rent out and make some incomes. It provides you and your guests with a chance to foliage in a chilled and relaxed climate in the middle of the trees.
The truth is that if you want to be able to rent out your treehouse, you will have no option but to guarantee its safety. Additionally, you have to take into account the safety of the other people that may come to spend time with you at your house. Here are some reasons to hire a professional home builder suggested by Rokco Builds, a Brisbane based construction company.
Reasons to Get a Home Builder Involved
Just because you tackled a project involving the construction of kitchen cupboards is not a justifiable reason to assume that you will do a better job on a simple treehouse than pros. The following are reasons why these projects should be left to treehouse builders:
1. Wood Choices
The structural beams used during construction must be safe. This means staying away from knotty pieces. While reclaimed wood is considered a safe and sound environmental option, each piece has to be carefully inspected for insect attack, rot, splits, and decay.
2. The Bolting Beams
Bigger trees can in some cases generate large amounts of pressure, especially in the spots near the ground. As such, the last thing that any person will do is risk bolts beginning to snap during the windy days. The only way to prevent this from happening is to use flexible joints in all the correct places.
The two points are the leading reasons why you should let professional treehouse builders construct the treehouse for you.
But Is It Possible for You to Lower Your Bill?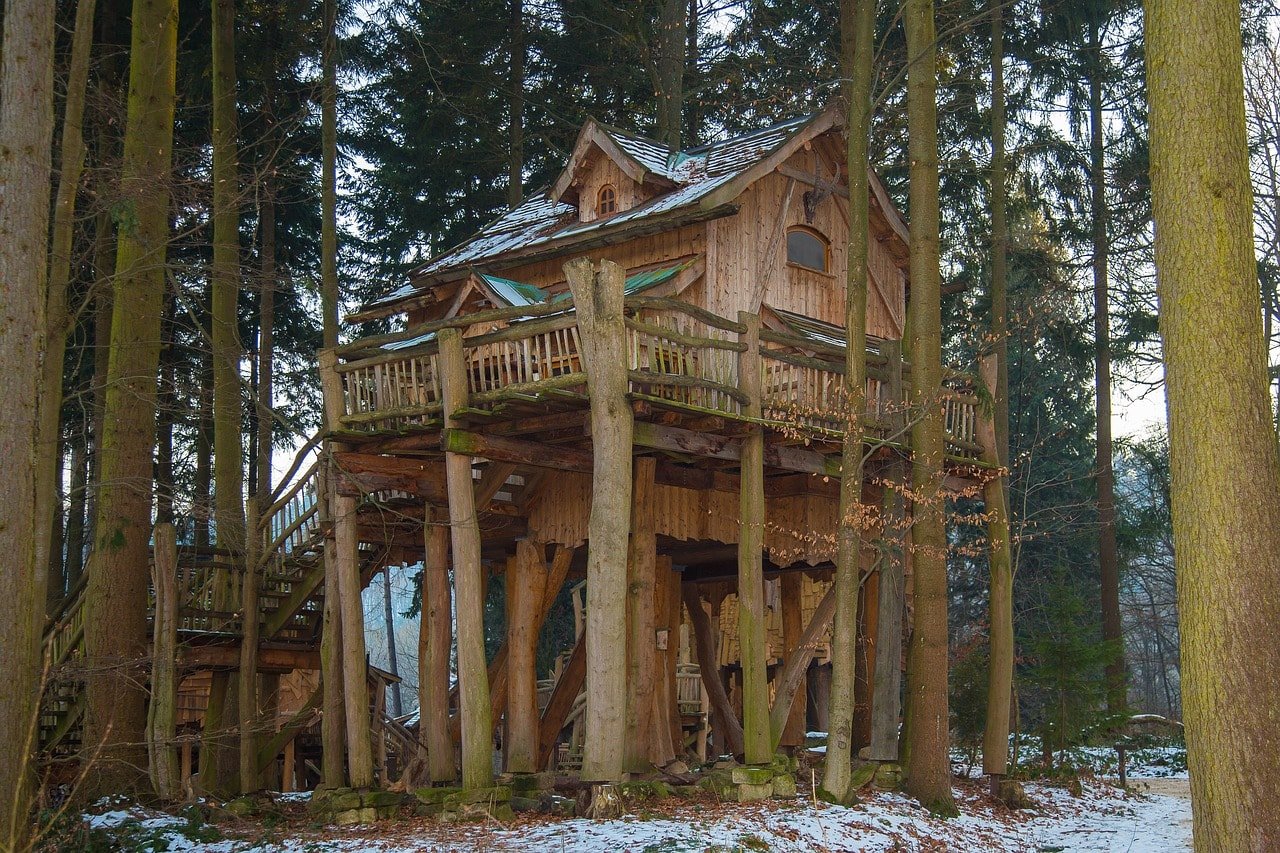 The expenses associated with contracting a treehouse builder can either be quite economical or downright frightening. If you make all the correct plans, then the steps you take can help to reduce your bill by up to 50 per cent.
1. Get Precise Tree House Plans: 
You have to make sure that you have obtained precise plans of the treehouse in advance. You and the builder have to agree on what is to be included. It helps to do away with ensuing confusion, especially when the builder is not sure of what is needed. This can also greatly lead to an inflation of your quotation.
2. Prepare the Site
It is not mandatory for you to wait for the builder to arrive for site preparation to begin. Try pruning the excess branches before they arrive.
3. Purchase the Materials
If it is possible for you to create a list of all the materials that will be needed, you can get to greatly reduce your construction bill. While you may not be comfortable choosing the lumber, you can still purchase the waterproof supplies, nails, and anchors.
Constructing a treehouse for yourself, your loved ones, or for commercial purposes is not an easy task. It requires expertise, experience, and knowledge that is likely to surpass your current DIY skills. Therefore, before you embark on this particular project, ensure you understand why you need to rely on the services of a professional builder.