Camping in a treehouse is the best way to arouse childhood memories. Imagine living high above the ground, breathing fresh air while interacting with nature; there is no doubt treehouse fantasy still lives in adults. It incredibly exciting hiding above the world and only birds for company.
Fortunately, treehouses are not only reserved for kids. Travellers have a chance to choose a charming treehouse and experience happiness and luxury way out of this world. In this article, we will have a look at leading world treehouse hotels which will warrant you an opportunity to live out of childhood fantasies. Here are treehouses hotels that have made a name in the realm of travel and tourism.
Mamole Treehouse Indonesia
This is a leading tourist destination. Sumba island is a real natural stunner that has a lot of fabulous sandy beaches, terrific turquoise waters, unmatched natural beauty and low limestone hills. The top-notch treehouse hotel is located 1000 kilometres east of Bali. This is one of the romantic treehouse getaways to ignite childhood dreams.
The treehouse features a unique architecture design where a spacious three rooms house is curved around a thick trunk of a tree. The house has a private infinity room, an open-air living room and several balconies.
Chewton Glen, England
Do you have a taste for luxury? This is the ideal treehouse to seclude yourself from the busy streets and still retain your taste for luxury. The treehouse is found on England's new forest and occupies more than 52.6 hectares of woodland. This is one of the best places to dine with your significant half. The house is raised 10 metres high to create room for amazing forest views and underfloor heating.
Address: Christchurch Rd, New Milton BH25 6QS, United Kingdom
Kaalba
This fantastic treehouse is located in Maleny botanic gardens & bird world. Kaalba offers accommodation to people from all walks of life. Some of the services you will enjoy in this wonderful garden are free parking and reliable WIFI throughout the garden.
To maximize every minute of your stay in the treehouse, each house has a balcony for perfect birds and plants views. Besides, the house has an equipped bathroom, and the living room has a flat-screen TV. As if that is not enough comfort, every room has a functioning microwave.
Address: 2/19 Beechwood Rd, Maleny QLD 4552, Australia
Book here: https://www.booking.com/hotel/au/kaalba-maleny2.th.html?aid=1493085;sid=2a8f6d08da9c27bc0655c4128a308753;dist=0&keep_landing=1&sb_price_type=total&type=total&
Rose Gums Wilderness Retreat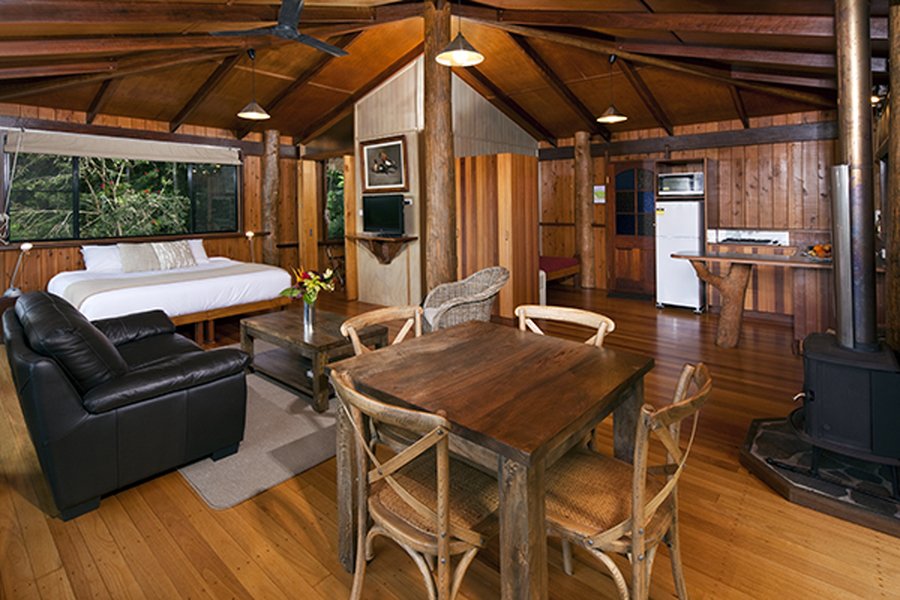 Ever had a feeling to seclude yourself and connect with nature? This award-winning retreat is more than a paradise. The retreat has 12 refurbished houses that have a large spa bath, a modern kitchen and a fireplace. Some of the fantastic places your will access at no cost are walking trails and a tennis court.
These tenacious treehouses are found on the coastal mountain ranges. The ranges neighbour Wooroonooran national park and are 90 minutes' drive from the great barrier reef.
Address: 324 Land Road, Malanda QLD, Australia
Book here: https://www.booking.com/hotel/au/rose-gums-wilderness.th.html?aid=1493085;sid=2a8f6d08da9c27bc0655c4128a308753;dist=0&keep_landing=1&sb_price_type=total&type=total&
Severn Dipity
Seven dipity is another epic treehouse located in the Queensland region, Ballandean. The hotel provides free parking to guests and access to a sauna. Guests can spend the better part of their day fishing in a nearby pod. Some units have a dining area and a grill.
Address: 38 Mungall Ln, Somme QLD 4382, Australia
Book here: https://www.booking.com/hotel/au/severn-dipity.th.html?aid=1493085;sid=2a8f6d08da9c27bc0655c4128a308753;dist=0&keep_landing=1&sb_price_type=total&type=total&
Lions Sands Game Reserve, South Africa
This luxury treehouse hotel is found along the banks of the Sabie River. This is one of the few places you will have a clear view of the world celebrated wildlife. This is the ideal place to connect with nature. The only sounds you will hear at night are growls, whistles, roars and huffs of wild animals. Each treehouse has a maximum capacity of two adults and two children.
Address: Sabi Sand Reserve, Kruger National Park, 1260, South Africa
Four Seasons Golden Triangle, Thailand
This spectacular treehouse is some hours drives from Chiang Mai. The golden triangle blends jungle survival skills and creativity. The tented tranquillity accommodation is on a bamboo jungle. To get in the treehouse, you have to use a traditional long-tail boat to sail down the river. Seclusion can't be any better than the in-season golden triangle. After sailing down the river, you will use a private walkway past the canopy to arrive at your treehouse hideaway.
When you get inside, you will be welcome by state-of-the-art décor, an open-air shower and a spacious living area. Each treehouse has a perfect view of Myanmar, the Ruak river or the Laos mountains.
Address: 499 MOO1 T. Vieng, Chiang Rai, Chiang Saen District, Chiang Rai 57150
From the review, it is evident that the best way to live your childhood dream is by booking accommodation in an elegant treehouse. You will have a chance to view magnificent wildlife, botanicals and physical features from an elevated place. We hope this piece will help you make a sound choice when choosing the next vacation.